Everyone has their own personal reasons for supporting this trail, and we welcome our donors to share what motivates them to give so generously.
Listen to the stories from those who have contributed to the trail…
The completion of this rail trail will be a fantastic way to connect communities along the trail and promote connection back to nature along the way. A healthy experience for both mind and body.

Lou & Donna Bouwmeester
---
I have been a supporter and user of the Trans Canada Trail since day one. I also got involved with the Kalamalka Lake / Kelowna to Vernon rail trail and it is an awesome ride. Now I look forward to the day when I can ride the Shuswap North Okanagan Rail Trail. These are wonderful projects for the benefit of all outdoor enthusiasts. So happy to help on this project with my donation. Best wishes to the team working on our behalf!

Dave Van Heck, Penticton, BC.
---
The Rail Trail is a major addition to the activities that can be enjoyed in the Shuswap. Using it can improve our health. Having it can encourage tourism. There is simply no downside so supporting such a worthwhile project was an easy decision.

Ralph and Marian Segreto
---
Let's all work together to get this year round usable jewel built. We travel all over the southern part of BC to ride the rail trails and they are getting more popular all the time. We meet people from all over doing the same thing. Let's do it!

Terry Fletcher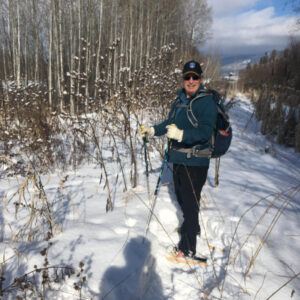 ---
A rail trail extending from Armstrong to Sicamous will be a superb amenity for our area. And it will provide some great possibilities for bicycling groups such as ours.

We are pleased to have made our rail trail donations via the CCCTS matching challenge and are grateful for all the work being done on the project by the Shuswap Trail Alliance and its partners.


Paul Cox, Old Guys Cycle and Ski Group, Salmon Arm, BC
---
As a Vernon resident the Okanagan Rail Trail has significantly improved our quality of life as a fantastic, almost year round outdoor recreation and fitness resource. I look forward to being able to enjoy the planned North Okanagan Rail Trail and explore the countryside all the way north to Sicamous. Plus it's created a huge sense of community pride for all those who contributed to its creation.

Ritchie Leslie, May 2021
---
We've given to the Okanagan Rail Trail before and we support the concept (and enjoy using the OK Rail Trail frequently). My close colleague at work and I had talked about a work campaign to support your trail project. She was an avid walker. When she died suddenly and tragically, I wanted to donate in her memory, but it was too soon as you weren't set up. Now was the time.

Dan and Karen Effa, May 2021
We had donated $50 earlier so we thought with another $110 that would cover the cost of one metre (yard). We are active seniors and are looking forward to having a biking trail within are area as we are supporters of healthy living. Thanks for your help.

Lucille Ketemer, May 2021
My name is Dorothy (Dot) Kohler and my parents in retirement moved out to Sicamous in the 80s and then eventually both of my sisters and their families followed. I hope to eventually move out as well and have been thumbing through Jim Cooperman's lovely book "Everything Shuswap", looking at your website and this morning dreaming of helping to build or maintain the coming Sicamous-Armstrong trail. It will be just a few steps from my new home.

I am so encouraged by your work and the effort of others in the bringing this dream to a reality…. Cheering you and the Shuswap North Okanagan Rail Trail team on!

Dorothy (Dot) Kohler, April 2021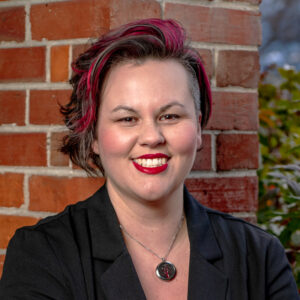 The Rail Trail project is such a wonderful way for communities to create a legacy for themselves. Having a multi-use path that is accessible to all skill levels and ages is an amazing way to bring communities together especially when it connects to multiple regions allowing people to experience each area in a way they may not typically do if they were only driving through.

More than ever these days we are noticing that spending time outdoors is critically important to both physical and mental health, and the development of a multi-use trail is a huge asset to any community!

Shelley Desautels, April 2021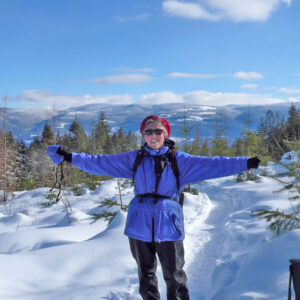 A new trend has emerged: Medical Doctors are writing prescriptions to 'get out into nature'. It's official–being in nature, whether active or relaxed, is a route to both physical and mental health. In the Shuswap, we have nature trails for all abilities at our door step courtesy of the Shuswap Trail Alliance. The Shuswap North Okanagan Rail Trail, the result of visionary efforts by many forward-thinking citizens and volunteers will, when completed, expand the existing trail network. It really doesn't get any better than that!

Gabriele Klein, March 2021
I had some extra money – knew of three projects that were asking for donations. I considered all three, then decided that a donation to the rail trail would have the largest impact – more people would benefit from the rail trail being completed than any of the other two projects – also I look forward to biking on the rail trail when it is finished.

Joyce, March 2021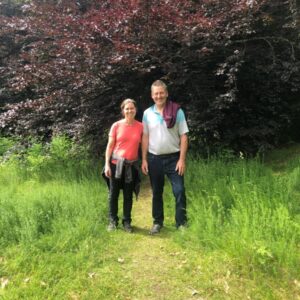 Personally, the rail trail will be a great place to exercise as I age out of the more strenuous local hikes and bike rides in the future. In the bigger picture, 'the trail will be a world-class draw for tourists who hopefully will have the opportunity to bike continuously from Sicamous to Osoyoos along the ten lakes that run the length of the Okanagan Valley with its plethora of wineries and shops and sites. When you see the amazing number of people who currently use the incomplete section of rail trail daily from Vernon to Lake Country, you can only imagine the amount of use a completed and paved rail trail would generate. This great venue for fresh air exercise and the attached economic spinoffs will continue for decades as we work towards a carbon-free future.

Reg Walters, February 2021
I look forward to a human-powered route to connect communities from Sicamous to Armstrong so that I can spend some time exploring our local communities and enjoy the scenery along the way.

Marianne, February 2021
This Trail does two great things in my mind. The first is that it will provide the opportunity for many people, both from here and abroad to enjoy our beautiful valley in an environmentally sustainable way. The second thing it does is provide options for the future, a linear corridor from one end of the valley to the other does not foreclose the options for those who follow us. I am a cycle tourist and have ridden similar trails in many countries. We are far behind in the development of these options for the future, compared to many other countries. My partner Barbara and I have lived here for 20 years and it will be so nice to ride the trail rather than busy highways.

B Smith, February 2021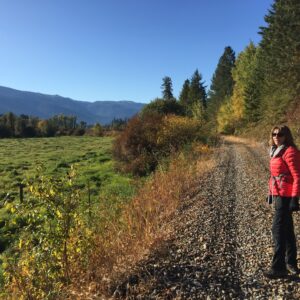 I donated to the Shuswap North Okanagan Rail Trail with the hope that it will become a reality, I think it can be just as successful as the Okanagan Rail Trail which we also donated to in the early stages. We have enjoyed the beauty of that trail summer and winter, biking and hiking it for literally hundreds of kilometers. We would love to enjoy the scenery along this new trail too. I applaud the people trying to make this happen.

B Kristensen, February 2021
I moved here from Quebec 18 months ago and have been enjoying exploring the trails in the area. When I read about the Rail Trail project I felt inspired to be a part of such an undertaking. I'm looking forward to being able to use the trail someday. I also appreciate the mention of the collaboration with the Secwépemc Nation.

Lorraine, January 2021
"It's going to be an amazingly beautiful trail along Mara Lake and the Shuswap River – a wonderful amenity for locals and visitors alike which will attract thousands from near and far. The partnership with Splatsin is a real benefit too, contributing to the reconciliation process. Askew's is pleased to support this truly wonderful project."

David Askew, President of Askew's Foods, December 2020
In an area with so much posted private land, the rail trail will make an invaluable contribution by increasing public access to natural spaces at low elevation.

anon – December 2020